PUMP IV Non-Stim Pre-Workout Capsules
Regular price
Sale price
$39.99
Unit price
per
Stimulate free Pre-Workout Pump, 30 Servings, Black Magic Supply
Black Magic PUMP, Non-Stimulant Pump Pre Workout, Caffeine Free, Nitric Oxide Booster, Muscle Pumps, Vasodilation, Beet Root, Nitrates.
Fully Dosed
Black Magic Pump I.V. amplifies muscle pumps and delivers intense hyperemia thanks to its supernatural synergy of clinically-research nutraceuticals beetroot, Nitrosigine, S7 and horny goat weed. This next-gen blend of complementary ingredients delivers insane pumps each and every tie you hit the gym. *
More blood flow, more gains
Greater NO production promotes greater blood flow, nutrient delivery and PUMPs, which ultimately supports harder training, improved aesthetics and superior results.*
Caffeine
 Free and Stackable
PUMP I.V. is crafted to contain everything needed for superior pumps and performance, but, if you're anything like us, we love to experiment and combine difference product to create transcendental combinations. Being Stimulant-free, Pump I.V. including BZRK or ECTO PLASM.*
Full transparency
PUMP features a transparent label that fully discloses the dose of each active ingredient. This means you know exactly what you're getting in each and every serving.*
As a dietary supplement, consume five (5) capsules 60 minutes prior to training, with 8-12 ounces of water (or your preferred pre workout supplement).
*These statements have not been evaluated by the Food and Drug Administration. This product is not intended to diagnose, treat, cure, or prevent any disease.
Share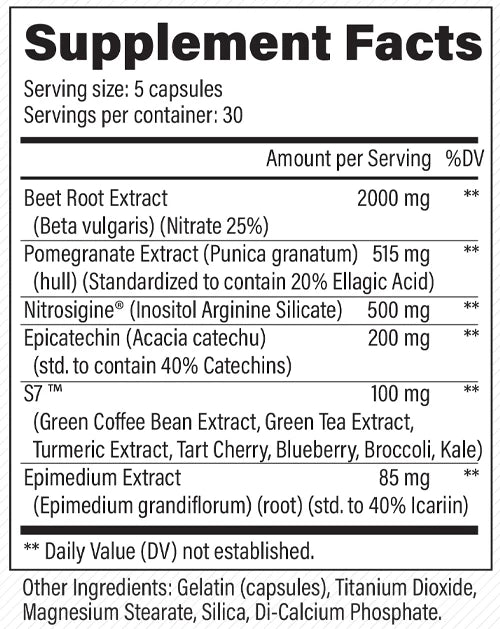 FREQUENTLY BOUGHT TOGETHER
---