Methyldrene
Regular price
Sale price
$39.99
Unit price
per
The Original Fat Burner - Cloma Pharma Methyldrene Original 25mg Ephedra 100 Caps
Time to have everyone ask what your secret is for weight loss! Now to get your hands on the Original Cloma Pharma fat burner! When burning fat, you want to be able to feel it and see it. These yellow fat burner pills will give you energy and build endurance while melting fat right off revealing your muscles! It's everything you want in a fat burner! Introducing Cloma Pharma Methyldrene 25mg of Ephedra!
Methyldrene 25 Ephedra ECA Stack Benefits
Breaks Down Fat

Increases Metabolism

Cuts Appetite and Cravings

Improves Mood

Increases Energy

25mg of Ephedra
What is Cloma Pharma Methyldrene 25?
Methyldrene Original 25 ECA Stack with Ephedra is an intense fat burning made by Cloma Pharma. This formula is super potent in stimulants and fat burning ingredients that you should be cautious if you are not used to it. You also get two blends in this fat burner along with some vitamins. This will give you stronger endurance while keeping you energized all day and burning fat! What more do you want from the original fat pill?
How Does Methyldrene 25 ECA Stack With Ephedra work?
This intense fat burner will give you results because Cloma Pharma has carefully picked out ingredients to work with your body and work together to give results. You off the bat get 25mg of Ephedra Extract! But let's list some main ingredients and break it down.  
You get an ECA Proprietary Blend of 375mg. This includes Caffeine and White Willow Bark Powder. Both of these work together to give you intense energy that lasts all day while suppressing your appetite and aid in weight loss. 
The other blend is the Fat Burning Matrix which includes a few key ingredients like Ephedra, Cayenne, Yohimbe, and Theobromine. 
Yohimbe is from a tree that has been used for years to aid in weight loss. Yohimbe increases the blood flow so you get more nutrients to your muscles but it also helps with cravings and destroying fat storage. 
Theobromine is a bitter alkaloid from the cocoa plant! This gets your heart racing because its a potent stimulant and helps you burn off fat. 
Cloma Pharma Methyldrene 25 ECA Stack Directions
We recommend to take one capsule in the morning with breakfast and one capsule in the afternoon with lunch. Do not exceed 2 capsules within any 24 hour period. Do not take within 6 hours of sleep.
Share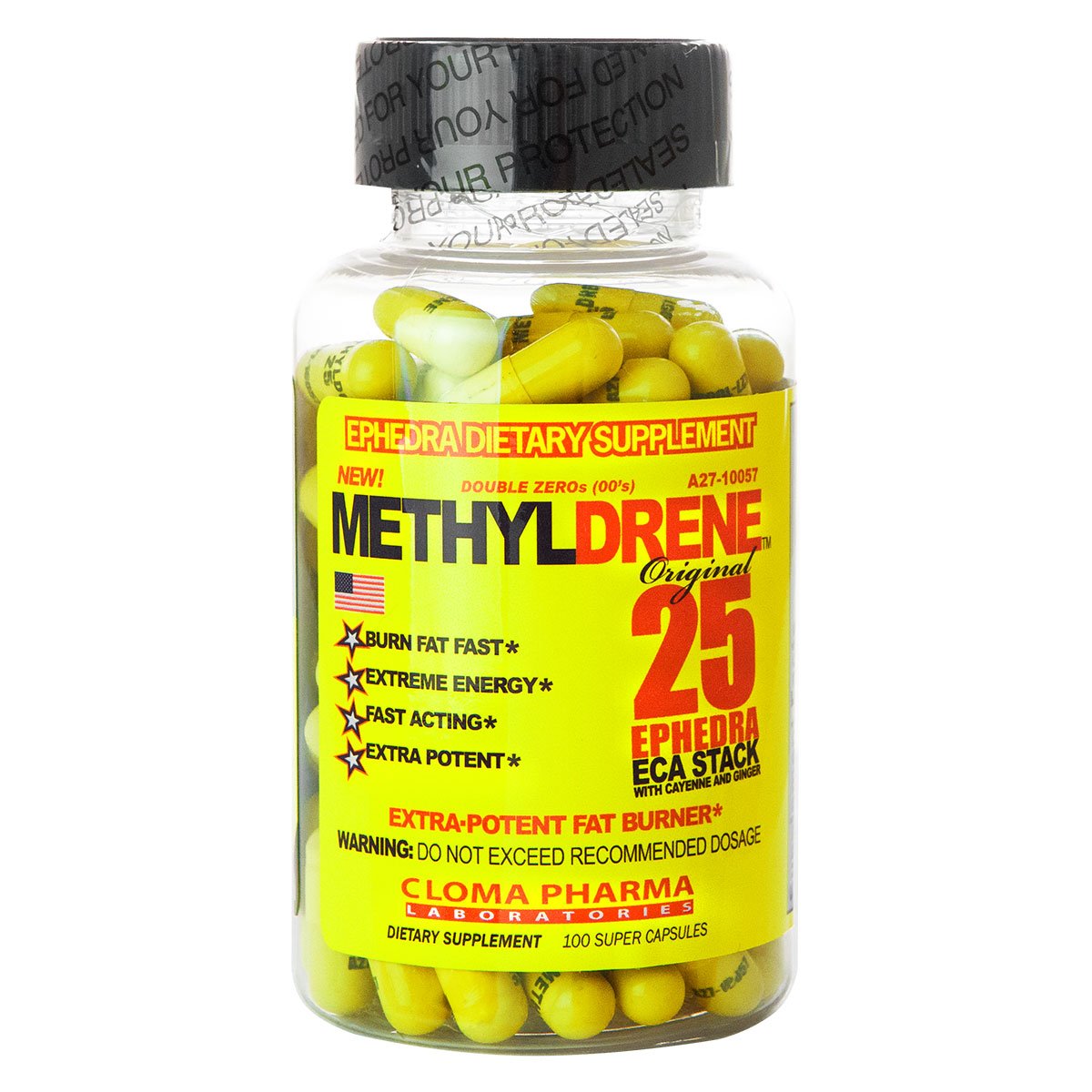 FREQUENTLY BOUGHT TOGETHER
---